Toroidal Transformers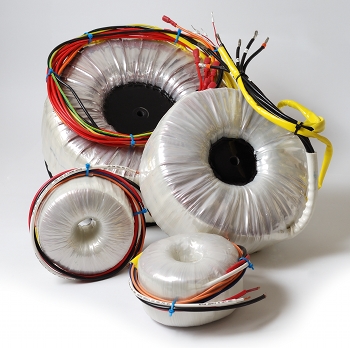 The Toroidal Advantage
A Toroidal Transformer converts AC supply voltages to one or more AC voltages, for example 230V to 2 x 24V.
Toroidal transformers offer a number of advantages over conventional 50/60Hz laminated transformers:

Easy to mount
Low mechanical hum
Flexible dimensions
Small size and weight
Low magnetic strayfield levels
Applications
Toroidal transformers have a wide range of application, including:

Audio Transformers
Power Transformers
Mains Transformers
Matching Transformers
Isolation Transformers
Custom Design
Power rating (VA) and voltages according to customer's specification.
Power rating (VA)
Number of tappings
Fixation method
Wire length (Standard length 300mm)
Power Rating

Single Phase: 10VA - 15000VA
Three Phase: Up to 50 KVA
Mounting Options
Standard Mounting Kit
Each transformer is supplied with a mounting kit consisting of a clamping disc and two rubber washers, complete with nut and screw. The toroid is sandwiched between the rubber washers providing an economical and vibration dampened assembly.
Centre-Potted with Insert
An insert is placed in the centre of the core, which is then resined. Mounting is done with a screw and nut.
Data Chart
Power Rating, measured in VA (Volt Amps), is calculated as Voltage * Amps.
For example: 10 VA = 5V * 2A.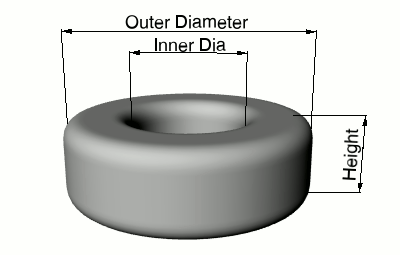 Rating
(VA)
Reg. ^u
Typical (%)
Outer Diameter
(mm)
Height
(mm)
Weight
(kg)
10
15
50
15
0.25
10
15
60
25
0.25
10
15
70
7.8
0.25
10
15
80
18
0.25
15
15
60
30
0.30
20
12
50
30
0.30
20
12
60
45
0.35
20
12
70
30
0.35
20
12
85
25
0.35
30
10
60
40
0.35
30
10
70
35
0.45
50
9
60
60
0.70
50
9
70
40
0.70
60
9
85
35
0.70
80
9
85
45
0.85
80
9
95
35
0.85
100
9
95
40
0.95
120
8
95
45
1.30
160
5
115
45
2.00
200
5
105
60
2.00
220
5
120
45
2.20
300
5
120
60
2.40
430
5
120
70
3.00
530
5
140
60
4.00
530
5
180
40
4.00
630
4
140
70
5.00
800
4
160
70
7.00
1000
3
165
80
8.00
1500
3
200
70
10.00
2000
3
220
85
11.00
3000
3
220
105
14.00
5000
3
270
110
22.00
7000
3
300
115
24.00
10000
2
350
110
35.00